Santa Doughnut Hole Pops How To
How-To
| | | | |
| --- | --- | --- | --- |
| Yield | 18 Treats | Level | Easy |
Ingredients:
White Candy Melts® Candy* (10 oz. makes 16 to 18 treats)
Orange Candy Melts® Candy* (12 oz, makes 16 to 18 treats)
Red Candy Melts® Candy*
Favorite Doughnut holes
Red chewy candies (like Laffy Taffy or Starburst)
Shredded coconut
Supplies:
Cake pop sticks
Candy Melting pot
Parchment paper
Decorating bags or bottle
Vase
Mini gumballs
Follow Instructions
1) Prepare the candy.
Melt white, orange and red Candy Melts separately according to package directions. Use melted orange candy to tint half of the white candy to a peachy skin tone. Save the rest of the white candy for later.
2) Dip the donut holes
Dip the end of a cake pop stick into the melted white candy and insert into doughnut hole. Dip your doughnut hole into melted skin tone candy, insert into a craft foam block (or other stand) and chill for 5 to 10 minutes. If you prefer, you can cover the doughnut holes with ready-made fondant with a peachy tint.
3) Make the hat
Knead three red chewable candies (like Laffy Taffy or Starburst) together to form a cone shape and curve at the tip. With a decorating bag or bottle, 'glue' the hat to the doughnut hole with melted skin tone candy. With another bag or bottle, pipe white melted candy for the hat brim and pom-pom. Sprinkle with coconut before the candy hardens. Yum!
4) Create Santa faces
With the melted white candy in a decorating bag or bottle, affix candy eyeballs. Use the melted skin tone candy to pipe a dot nose and chill until firm for 3 to 5 minutes. With a decorating bag or bottle, use the melted red candy to draw on a happy smile and chill until firm, about 3 to 5 minutes. Finally, use the melted white candy to pipe a swirly beard and chill for about 5 to 10 minutes.
5) Display your tasty treats
For a fun and festive presentation, try filling a vase with red or green mini gumballs to easily prop up each stick. Your little elves will love nibbling these sweet Santa snacks!
More Dip & Drizzle Treats Ideas View All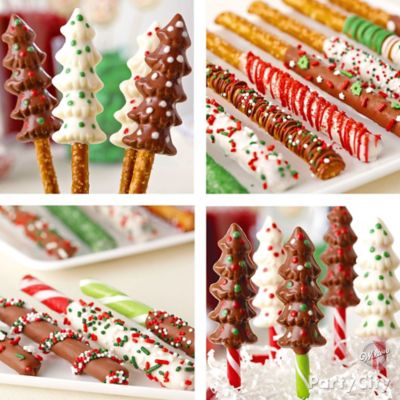 Yummy salty and sweet treats!
Let everyone try dipping sweet candy sticks and salty pretzel sticks directly into melted candy, or try out a Christmas tree pretzel mold (fun!).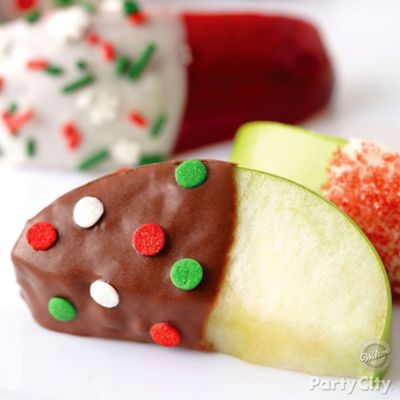 Festive fruits make the holidays healthier!
For a tasty treat that's not too sweet, set out red and green apple slices for your party peeps to dip in melted candy and decorate with their fave sprinkles. Create some ahead of time to inspire them to make their own creations. Provide sprinkles in different colors and styles and let them get their merry on! Candy Melts® Candy available at Party City stores.
More Christmas Party Ideas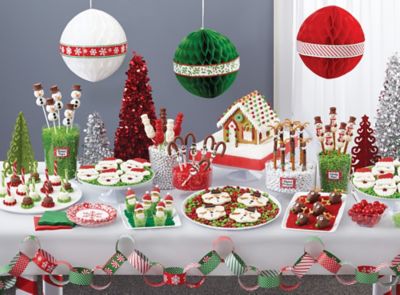 North Pole Treat Ideas
The man in the red suit won't be able to resist these cookies, pops, pretzels and more!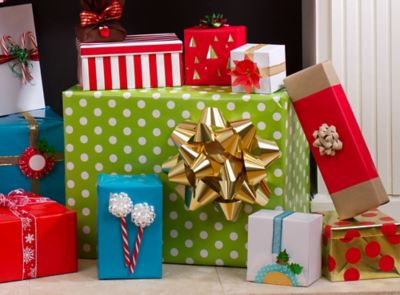 DIY Gift Wrap Ideas
Make your gifts stand out underneath the tree with easy do-it-yourself embellishments.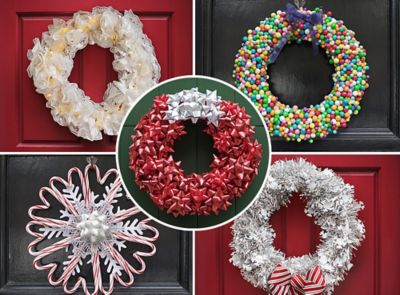 DIY Wreath Ideas
Turn ordinary party supplies into exquisite Christmas decorations!