Tinker Bell Fondant Cake How To
How-To
| | | | |
| --- | --- | --- | --- |
| Yield | Servings vary | Level | Advanced |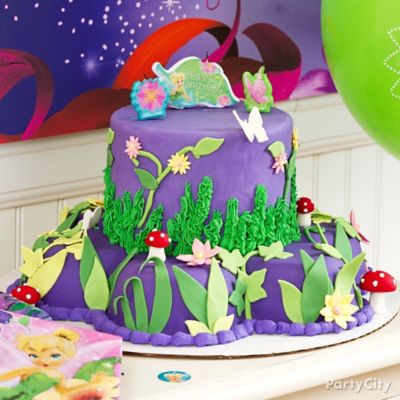 Ingredients:
2 - 6 in. cake rounds
Two daisy-shaped cake rounds
Buttercream icing
2 boxes pre-rolled white fondant (total 72 oz.)
Icing color in violet, rose, green, yellow, red
Pre-made icing flowers (optional)
Dancing daisy icing decorations (optional)
Supplies:
Tinker Bell candles
Dancing Daisy cake pan
Fondant roller
Fondant smoother
Grass decorating tip #233
Round and star tips
decorating tips #16 and #3
Decorating bags and coupler
Pizza cutter or paring knife
Toothpicks
Follow Instructions
1) Bake round and flower cakes
This cake is an edible Pixie Hollow! We made the bottom layer of the cake using a Dancing Daisy cake pan. The top layer is a 2-layer 6 in. cake round.
2) Ice cakes
To prepare your cake to be covered with violet fondant, ice it with a layer of buttercream icing.
3) Tint fondant violet
To tint the white fondant violet, use one box of pre-rolled fondant, make a ball and knead fondant until soft. Use a toothpick to dot violet icing color onto the fondant and knead until color is evenly distributed.
4) Cover cakes with violet fondant
Roll out the violet fondant. Place over the cake and smooth using a fondant smoother. Trim off the excess using a pizza cutter or paring knife.
5) Create fondant forest decorations
Time to make a sweet little fairy forest! Use bits of white and tinted fondant to make butterflies, leaves, flowers and toadstools. (Or use pre-made icing flowers — easy!) Using the second box of fondant, reserve some white for butterflies and the stems of the super-cute mushrooms! Then use the same toothpick technique to tint some white fondant 3 shades of green for the leaves, and your fave shades of yellow and pink for the flowers. Free-hand the shapes with a pizza cutter, or use small cookie cutters, and attach with buttercream icing.
6) Pipe grass
To create the grass, use green-tinted icing in a decorating bag with grass tip #233 and a coupler.
7) Add icing detail
To add details like the centers of the flowers and the spots on the toadstools with white icing, use a small round tip.
8) Pipe icing boarder
We also piped a pretty decorative edge all along the bottom using violet-tinted icing and star tip #16.
9) Place candles
Add your Tink candles on top and serve up some pixie perfection!
More Tinker Bell Party Ideas View All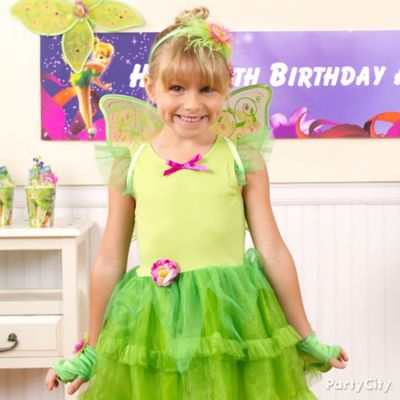 Think Tink!
The birthday girl will feel like a magical fairy in her fabulous Tinker Bell costume.
Help Tink find her wand!
Have all the party pixies gather around to try Tinker Bell's take on Pin the Tail on the Donkey.
More Girls Birthday Ideas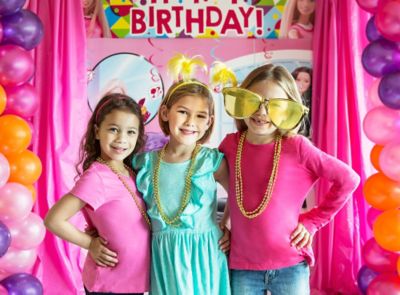 Barbie Party Ideas
Use our Barbie party ideas to give your little fashionista a party she'll remember!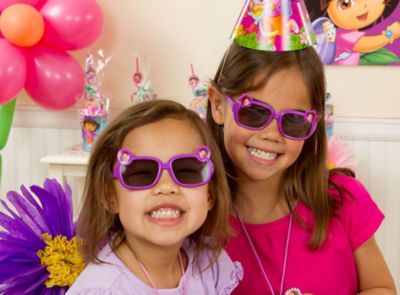 Dora Party Ideas
No need for a map – you have our invitation, favor and decorating ideas right here!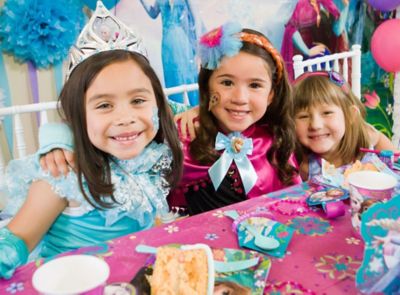 Frozen Party Ideas
Wicked-cool Disney's Frozen party ideas for decorations, place-settings and more!