Peppa Pig Cake How-To
How-To
| | | | |
| --- | --- | --- | --- |
| Yield | 1 Cake | Level | Intermediate |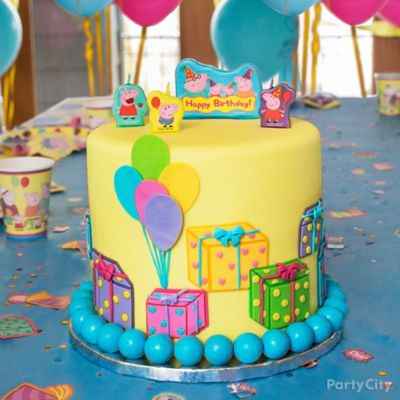 Ingredients:
4 12in round cakes
Icing
3 boxes of white fondant
Pink, green, yellow, blue and violet icing colors from kit
Caribbean blue gumballs
Supplies:
12in cake pans
Spatula
Toothpicks
Fondant roller
Round decorating tip #5
Fondant smoother
Cake board
Follow Instructions
1) Bake Cake
Use a round cake pan and bake your favorite cake. Use multiple layers for extra height.
2) Apply Icing and Fondant
Cover the entire cake with buttercream icing then cover with yellow fondant.
3) Create the Scene
Cut the multicolor fondant into pieces shaped like balloons and presents.
4) Add Candles and Candy
Finish off this piggy cake with gumballs around the base and Peppa Pig candles on top.
More Peppa Pig Party Ideas
More Girls Birthday Ideas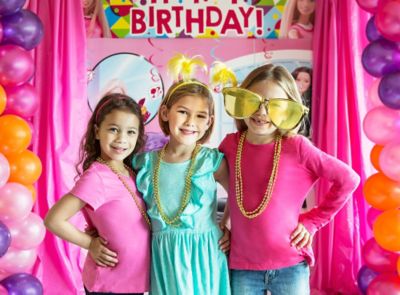 Barbie Party Ideas
Use our Barbie party ideas to give your little fashionista a party she'll remember!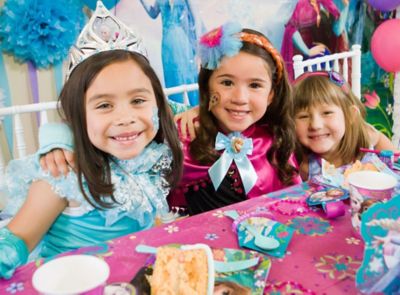 Frozen Party Ideas
Wicked-cool Disney's Frozen party ideas for decorations, place-settings and more!
All Girls Birthday Themes