Minnie Mouse Bow-Bars How To
How-To
| | | | | | | | | | | | |
| --- | --- | --- | --- | --- | --- | --- | --- | --- | --- | --- | --- |
| Total Time | 30 min | Prep Time | 15 min | Wait Time | 10 min | Cook Time | 5 min | Yield | Servings vary | Level | Easy |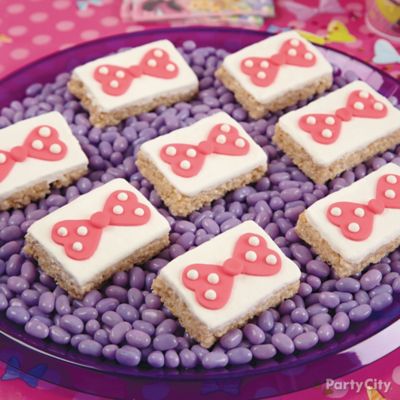 Ingredients:
Favorite crispy rice cereal treats recipe
White Decorating Icing Pouch with Tips
Rolled Fondant Neon Colors Multi-Pack (pink used; 4 oz. makes 10 treats)
Supplies:
11 in. x 15 in. Sheet Pan
Waxed or parchment paper
Cookie sheet
Plastic ruler
Knife
9 in. Angled Spatula
9 in. Fondant Roller
Hearts Double Cut-Outs Set (C cut-out used)
Follow Instructions
1) Make cereal treats
Prepare cereal treats mixture following recipe directions. Press into pan. Unmold from pan and place on a waxed paper-covered cookie sheet. Cut treats into rectangles, 3 in. long x 2 in. wide.
2) Ice treats
Use white icing pouch with round tip to cover treats. Use spatula to smooth.
3) Make bow
Use fondant roller with purple guide rings to roll out pink fondant 1/8 in. thick. Use straight edge of "C" size heart cut-out to cut two hearts for each treat. For knot, roll fondant into a /4 in. ball. Flatten ball.
4) Assemble treats
Position heart bow loops on treat with points together. Use white icing pouch with round tip to attach knot to bow and pipe dots on bow. Serve these Minnie-rific treats at your birthday bash and watch them get gobbled up!
More Minnie Mouse Sweets & Treats View All
More Girls Birthday Ideas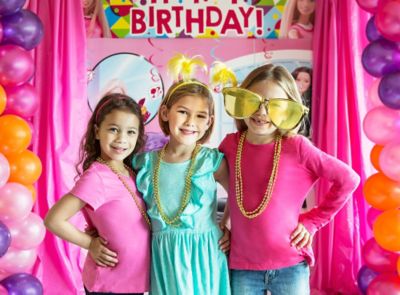 Barbie Party Ideas
Use our Barbie party ideas to give your little fashionista a party she'll remember!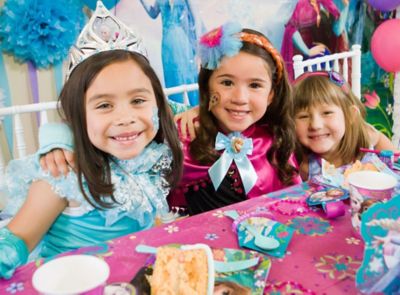 Frozen Party Ideas
Wicked-cool Disney's Frozen party ideas for decorations, place-settings and more!
All Girls Birthday Themes