Hello Kitty Smoothies How To
How-To
| | | | |
| --- | --- | --- | --- |
| Yield | Servings vary | Level | Medium |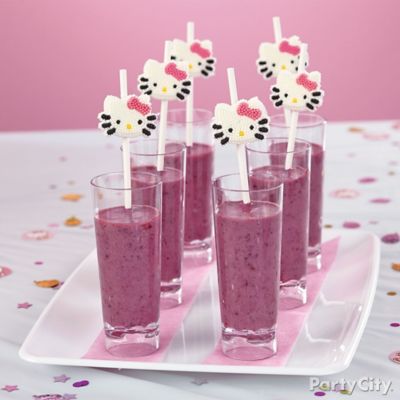 Ingredients:
White Candy Melts® Candy
Hello Kitty Icing Decorations
Three Berry Smoothies Recipe
Supplies:
12 in. Disposable Decorating Bags
Food-safe scissors
6 in. Lollipop Sticks
Plastic ruler
Follow Instructions
1) Assemble swizzle sticks
Melt white Candy Melts candy in disposable decorating bag according to package directions. Cut small point off of decorating bag. Use melted white candy to attach icing decoration to lollipop stick, about 1 in. from end of stick. Chill until firm, about 3 to 5 minutes.
2) Make smoothies
Prepare smoothies following recipe below. Pour into glass and add swizzle stick. Berry cute, and yummy to boot!Three Berry Smoothies:1 1/2 cups lowfat vanilla yogurt1 container (8 ounces) fresh raspberries1 container (6 ounces) fresh blueberries8 ounces (half of 16-ounce container) fresh strawberries1 1/2 cups ice cubesCombine all ingredients in blender. Blend on high speed until completely smooth.Makes about 5 cups.
More Hello Kitty Sweets & Treats View All
More Girls Birthday Ideas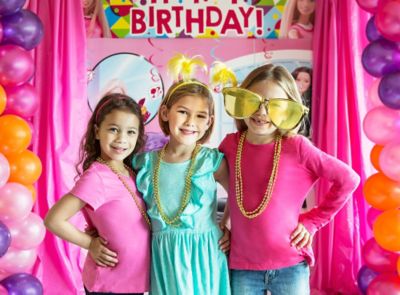 Barbie Party Ideas
Use our Barbie party ideas to give your little fashionista a party she'll remember!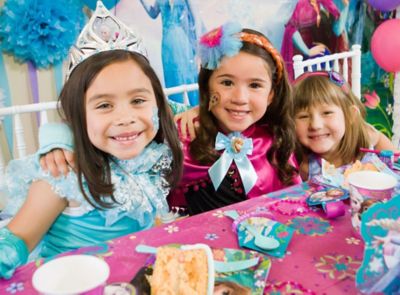 Frozen Party Ideas
Wicked-cool Disney's Frozen party ideas for decorations, place-settings and more!