Table Decorating Ideas

Combine a few DIY details with easy Dora decorations!

Set a table the birthday girl will want to explore! Start with easy paper flowers and jungle vines to set the scene. Add colorful centerpieces and place-settings with Dora and Boots' smiling faces. So simple you'll say "Lo Hicimos" in no time!

Add a favor at each place-setting
Wow them with tropical flowers and vines!
Decorating Ideas

Create a Dora adventure land! Transform your home into the wild and wonderful world of Dora the Explorer. Check out these creative ideas for a rainforest fiesta using Dora decorations including balloon daisies and a themed photo booth.

Make their smiles grow with crazy DIY balloon daisies!
Turn the room into a rainforest photo booth
Game & Activity Ideas

Play pinata, Dora-style!

It's time for an adventure! Whether they're exploring the beach or climbing Star Mountain, Dora and Boots are two explorers on the go! You can join them at your next fiesta with fantàstico Dora the Explorer party games and activity ideas!

Pin the flower on Dora!
Let everyone create their own Dora the Explorer cupcakes!
Favor Ideas

Pack up a bucket full of adventure!

Fantastic favors! Send your guests home feeling like real explorers with Dora party favors that let the adventure continue long after the party's over! Birthday party favors, especially if they are thoughtful and creative, are a memorable way to say, "¡Gracias! Thanks for coming!"

Transform Dora party cups into fantastic favor creations!
Favor value sets are a treat for moms, too
Dress Up Ideas

Dress your birthday girl like Dora

Dress up just like Dora! Wherever she goes exploring, Dora always looks cute in her bright outfits. Young Dora the Explorer fans will get a kick out of dressing like her in our costumes and accessories.

Give her Dora accessories with her birthday outfit!
Give everyone Dora accessories at the door!
Invitation & Thank You Ideas

Send custom-printed invites with your Dora fan's photo!

Come on! ¡Vámonos! Invite friends to a Dora fiesta! Explore these easy, creative ideas to make your Dora party invitations more "Dora," more unique and more personal – yet still super simple to check off your list.

Send a fun party pass with your invites
Add a photo to turn thank you notes into keepsakes!
Cake & Cupcake Ideas

Double the fun with an amazing two-tier Dora cake!

¡Qué delicioso! It just wouldn't be a birthday fiesta without delicious desserts, and this Dora the Explorer party is no exception. With our Dora Party Food ideas, you can prepare festive cakes and cupcakes as easy as uno, dos, tres!

Make a "mountain" of Dora the Explorer cupcakes!
Invite Dora for dessert with a character cake!
More Girls Birthday Ideas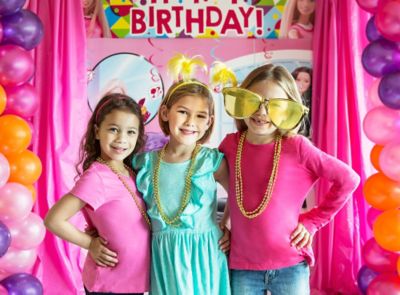 Barbie Party Ideas
Use our Barbie party ideas to give your little fashionista a party she'll remember!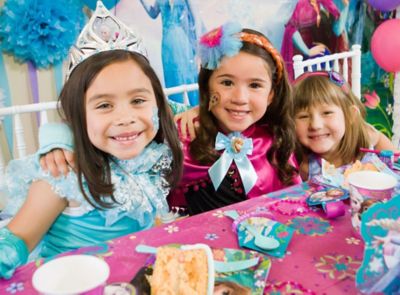 Frozen Party Ideas
Wicked-cool Disney's Frozen party ideas for decorations, place-settings and more!
ALL GIRLS BIRTHDAY THEMES