Doc McStuffins Fondant Cake How To
How-To
| | | | |
| --- | --- | --- | --- |
| Yield | Servings vary | Level | Advanced |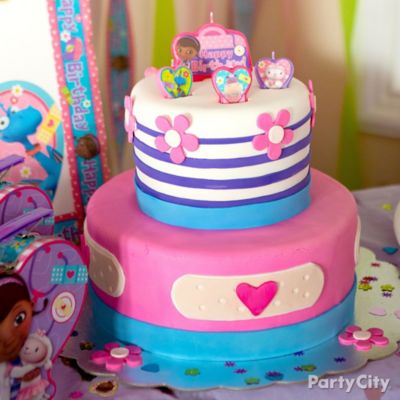 Ingredients:
2 two-layer cake rounds, 6 in. and 10 in. in diameter
Buttercream icing
2 boxes pre-rolled white fondant
Violet icing color
Rose icing color
Pink icing color
Sky blue icing color
Ivory icing color
Supplies:
Doc McStuffins birthday candles
Fondant roller
Fondant smoother
Toothpicks
Pizza cutter or paring knife
16 in. cake board
Follow Instructions
1) Prepare cakes
To prepare your cake rounds to be covered with fondant, ice them with a layer of buttercream icing.
2) Cover top tier
Knead a ball of white fondant until soft then roll out. Place over the smaller cake round and smooth using a fondant smoother. Trim off the excess with a pizza cutter or paring knife. Set aside the cake and fondant scraps.
3) Prepare pink fondant
To create the pink-hued fondant for the bottom layer, knead a ball of white fondant until soft. Using a toothpick, dot pink icing color onto the fondant, and knead until color is evenly distributed.
4) Cover bottom tier and stack cakes
Roll out the pink fondant. Place over the larger cake round and smooth using a fondant smoother. Trim off the excess and set aside for later. Stack the smaller cake round on top of the large cake.
5) Cover top tier with stripes
Let's decorate the top cake round! Grab a ball of excess white fondant and dot with violet icing color using a toothpick. Once the desired hue is reached, cut four strips and wrap them around the top cake.
6) Create flwoers
For the flowers, knead a ball of the pink fondant you had left over from the bottom cake layer. Roll out the fondant and cut out flower shapes, 8-10 will do. Cut out circle centers for the flowers from the extra white fondant and attach to the pink flowers by dabbing the backs with water to "glue" them. Use the same method for the flowers around the cake. (If you like, save a couple fondant flowers to decorate the cake board!)
7) Tint fondant
On to the bottom layer — let's make some boo-boo bandages! Knead the rest of the excess white fondant into a ball and divide into 3 sections. Tint 2 of the sections rose pink and ivory, respectively.
8) Create bandages
Roll out the third section of white fondant and cut out 4 band-aid shapes. Roll out the ivory-tinted fondant and cut out band-aid shapes slightly smaller than the white ones you made. Cut out tiny holes from the ivory shapes for a band-aid texture and "glue" onto the white shapes with water.
9) Create hearts
Roll out the pink section and cut out 4 heart shapes. Attach one heart to the center of each band-aid, then attach them to the cake — cute!
10) Wrap bottom tier with strip
To make a blue strip border for the small and large cake, roll a ball of excess white fondant and dot with sky blue icing color using a toothpick. Cut two long strips approximately 1 in. wide, and wrap them around the bottom of the large cake round, end to end. Cut off excess fondant. Do the same for the small cake round.
11) Top with candles
Last but not least, add some Doc McStuffins candles to the top of your cake. If you saved a couple fondant flowers, use them to decorate the cake board. Your little girl will love this Dottie-inspired cake!
More Doc McStuffins Party Ideas View All
More Girls Birthday Ideas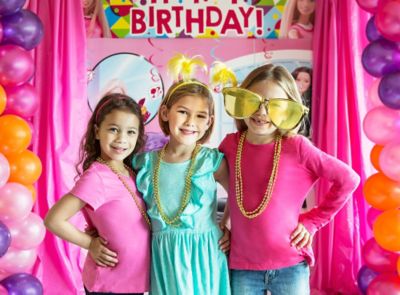 Barbie Party Ideas
Use our Barbie party ideas to give your little fashionista a party she'll remember!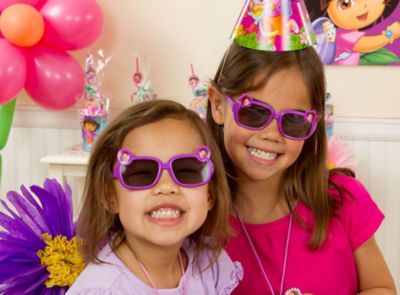 Dora Party Ideas
No need for a map – you have our invitation, favor and decorating ideas right here!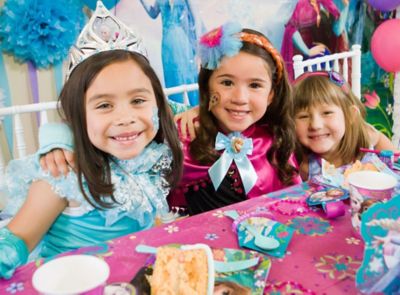 Frozen Party Ideas
Wicked-cool Disney's Frozen party ideas for decorations, place-settings and more!