Table Decorating Ideas

The little heroes will have a blast at a party table full of totally epic table decorations and DC Super Hero Girls tableware. Learn how to complete your party room's look with balloons, swirls and more!

Turn your party room into Super Hero High!
Need a Save the Day Alarm for your party?
Decorating Ideas

Train your inner super-decorator with easy tips on how to turn your party room into a bright, colorful backdrop for your favorite caped crusaders. The kids will be ready to leap into action!

Inspire the heroes to take action
Power up the party with a custom banner
Game & Activity Ideas

Let the heroes-in-training try their moves on a pinata

It's time for the kids to unleash their power and suit up for our favorite DC Super Hero Girls party games and activities! The girls can work together to battle a pinata, vanquish a pin-it game, and then celebrate their feats of daring with a fun photo booth!

An action-packed twist on pin-the-tail
"Frame" fun photos of the brave heroes!
Favor Ideas

Explore our favorite fast and easy ways to pack up party favors for the little heroes! The kids will love having something to take home with them after a long day of world-saving.

Pack a punch with favor cups!
Finish favors with super speed
Dress Up Ideas

This Wonder Woman costume is sure to pack a punch!

Wonder Woman has her tiara, Batgirl has her mask, and Supergirl has her iconic red cape. Every hero needs the right gear to help them stop trouble in its tracks! Help your birthday hero find what's just right for her, whether it's a detailed Wonder Woman costume for the big day, or a few carefully chosen crime-fighting accessories.

Make any outfit mighty!
Take on dastardly villains in hero gear
Treat Ideas

This cake has a secret identity. While it may simply look like a cake decorated like Wonder Woman's dress, it's really a pull-apart cupcake cake! After the heroes sing

Happy Birthday

and the candles are blown out, serve up individual cupcakes on cute DC Super Hero Girl plates...no forks required!

Click in for the low-down on how to create a super-memorable, super-fun, and incredibly easy pull-apart cupcake cake for your hero and her squad.

Learn how to create a pull-apart cupcake cake!
MORE GIRLS BIRTHDAY IDEAS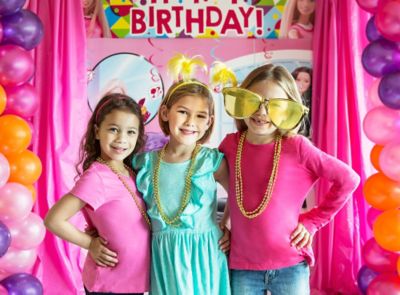 Barbie Party Ideas
Use our Barbie party ideas to give your little fashionista a party she'll remember!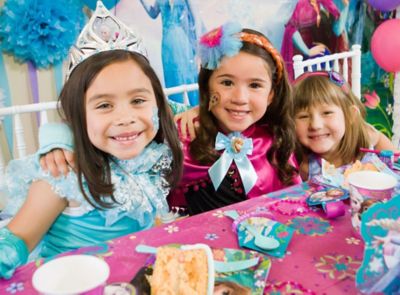 Frozen Party Ideas
Wicked-cool Disney's Frozen party ideas for decorations, place-settings and more!