Barbie Balloon Tower DIY
How-To
| | | | |
| --- | --- | --- | --- |
| Yield | 2 Balloon Towers | Level | Intermediate |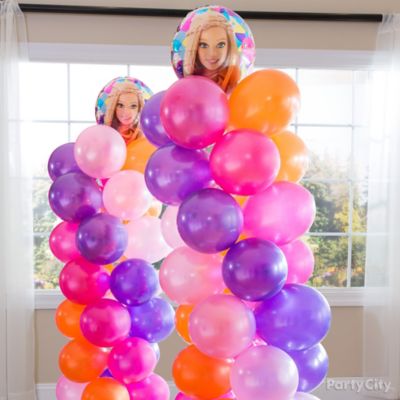 Supplies:
2 packs Bright Pink Balloons
2 packs Pink Balloons
2 packs Orange Balloons
2 packs Purple Balloons
2 Barbie Foil Balloons
4 Barbie Balloon Weights
2 Bright Pink Ribbon Kegs
OR 1 Barbie Balloon Tower Kit (includes all supplies listed above)
Follow Instructions
1) Inflate Two Balloons

Begin by inflating two balloons of two different colors and tying the ends together. All balloons should be uniform in size. Use a hand pump or helium to inflate.
2) Build the Foundation

Repeat the first step with two different color balloons. Place them with the other set to make an X shape. Tie ribbon to the center and attach to a balloon weight. We used two balloon weights for extra support! (You will need roughly 70 inches of ribbon for a 6-foot tower.)
3) Add Additional Layers

Make another cluster of four balloons in the same color sequence. Stagger the layers to create the cool spiral effect. Add as many layers as you wish, attaching a ribbon through the center.
4) Top It Off

To complete the balloon tower, inflate a thematic balloon with helium and attach it to the center of the column. All finished!
More Barbie Party Ideas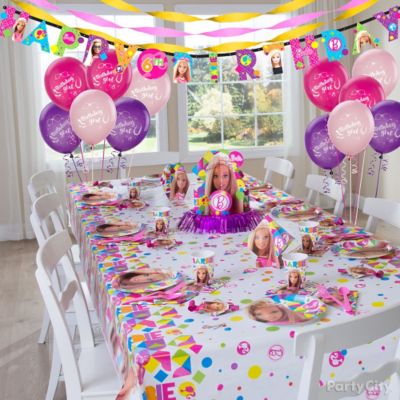 It's a fashion explosion!
Infuse the party room with Barbie sparkle by adding a birthday banner and balloons to complete the scene.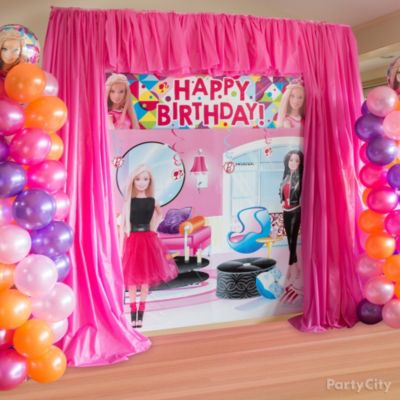 Roll out the runway
The birthday girl will love a catwalk with tablecover "curtains" and a Barbie scene setter.
More Girls Birthday Party Ideas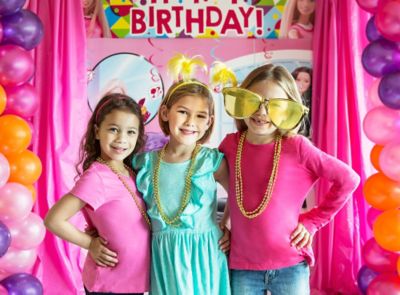 Barbie Party Ideas
Use our Barbie party ideas to give your little fashionista a party she'll remember!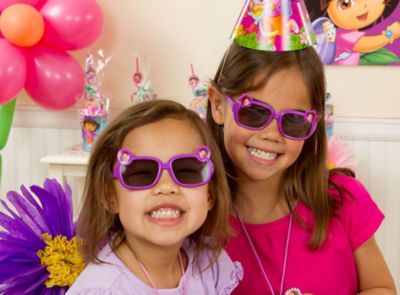 Dora Party Ideas
No need for a map – you have our invitation, favor and decorating ideas right here!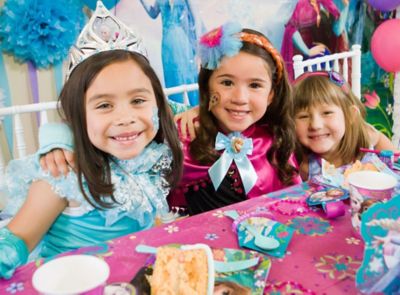 Frozen Party Ideas
Wicked-cool Disney's Frozen party ideas for decorations, place-settings and more!
All Girls Birthday Themes