More Girls' Favorites
29 fierce party ideas! Get Inspired

Freaky cool — it's a Monster High birthday party! Our Monster High party ideas — such as invites, decorations, treats and more — will make your birthday something to howl about!

Stage a Monster High photo shoot!

Rule the school with a cupcake tower!

PARTY VIDEO: Creepy-cool!
15 Doc-approved party ideas! Get Inspired

The doc is in! Write a prescription for fun with our Doc McStuffins party ideas. Give your party a healthy shot of cuddles with our inspiring Doc McStuffins ideas for invitations, decorations, favors and more.

Share Doc-tastic goodies with the b-day girl's friends

Double the fun with this two-layer Doc cake!

PARTY VIDEO: The party fun is in!
26 pretty (and pretty cute) ideas! Get Inspired

Bring together the princesses-in-training for a fun-filled birthday party! Create the storybook world of Enchancia with our Sofia the First party ideas for party decorations, adorable favors and activities fit for little princesses!

Bake a castle of cupcakes!

Dress like a princess with gorgeous goodies!

PARTY VIDEO: Time for royal prep!
18 splashy party ideas! Get Inspired

Have a gup-gup-guppy party with our Bubble Guppies party ideas! From invitations to party favors, these Bubble Guppies ideas will make your school of fish want to dance and sing and play guitar. Rockin' bubbles for all!

Set up a Bubble Photo Booth

Make a candy-rific Bubble Guppies cake!

PARTY VIDEO: Bub-bub-bubble fun!
21 royal decorating & dress-up ideas! Get Inspired

Our Disney Princess Party Ideas Guide will help you put together a birthday beyond your little girl's wildest dreams.

Decorate your palace for a royal Disney Princess ball!

Set a grand table fit for a Disney Princess!

PARTY VIDEO: Royal party rules!
More Girls Birthday Ideas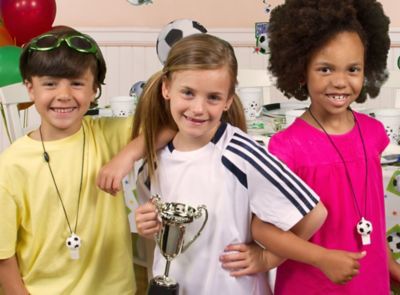 Soccer Party Ideas
Score a GOOOOOOOOOOAAL with these invitation, deco, snack and favor ideas.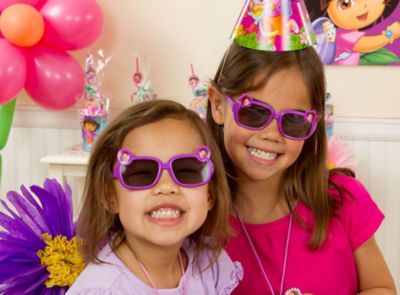 Dora Party Ideas
No need for a map – you have our invitation, favor and decorating ideas right here!
All Girls Birthday Themes