More Girls' Favorites
29 cool birthday ideas & DIYs! Get Inspired

Invite Anna and Elsa to the party with this cool tablescape! Snowflakes sprinkle the festive table, along with Frozen place-settings and centerpieces. Time to call Olaf to cut the cake!

Add themed decor for an enchanting party!

A banquet fit for a princess… or two!

PARTY VIDEO: Party with Anna and Elsa!
16 party ideas as magical as friendship! Get Inspired

Invite the birthday girl's BFFs over for a ponypalooza party! Get inspired by our My Little Pony party ideas for decorations, party games, cake and more!

Make a Dash-ing party room!

Set pony-rific place-settings!

PARTY VIDEO: Party is magic!
30 Bow-tiful party tips! Get Inspired

Recreate Minnie's Bow-Tique for your mini with our fun party ideas! We used Minnie Mouse's signature bows and playful polka dots to doll-up the party with pretty decorations, games and favors. Minnie's favorite snacks and treats make the party complete!

Accent Minnie decorations with pink and polka-dots!

Minnie-fy the table with Minnie Mouse favors!

PARTY VIDEO: Tee-hee! It's party time!
29 fierce party ideas! Get Inspired

Freaky cool — it's a Monster High birthday party! Our Monster High party ideas — such as invites, decorations, treats and more — will make your birthday something to howl about!

Stage a Monster High photo shoot!

Rule the school with a cupcake tower!

PARTY VIDEO: Creepy-cool!
15 Doc-approved party ideas! Get Inspired

The doc is in! Write a prescription for fun with our Doc McStuffins party ideas. Give your party a healthy shot of cuddles with our inspiring Doc McStuffins ideas for invitations, decorations, favors and more.

Share Doc-tastic goodies with the b-day girl's friends

Double the fun with this two-layer Doc cake!

PARTY VIDEO: The party fun is in!
26 pretty (and pretty cute) ideas! Get Inspired

Bring together the princesses-in-training for a fun-filled birthday party! Create the storybook world of Enchancia with our Sofia the First party ideas for party decorations, adorable favors and activities fit for little princesses!

Bake a castle of cupcakes!

Dress like a princess with gorgeous goodies!

PARTY VIDEO: Time for royal prep!
18 splashy party ideas! Get Inspired

Have a gup-gup-guppy party with our Bubble Guppies party ideas! From invitations to party favors, these Bubble Guppies ideas will make your school of fish want to dance and sing and play guitar. Rockin' bubbles for all!

Set up a Bubble Photo Booth

Make a candy-rific Bubble Guppies cake!

PARTY VIDEO: Bub-bub-bubble fun!
More Girls Birthday Ideas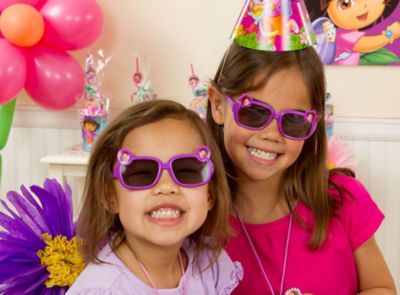 Dora Party Ideas
No need for a map – you have our invitation, favor and decorating ideas right here!
All Girls Birthday Themes