Power Rangers Fondant Cake How To
How-To
| | | | |
| --- | --- | --- | --- |
| Yield | Servings vary | Level | Advanced |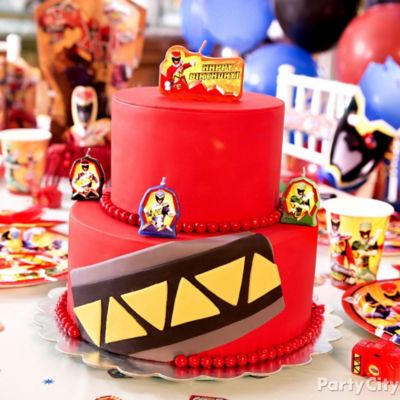 Ingredients:
2 two-layer cake rounds, 6 in. and 10 in. in diameter
Buttercream Icing
2 boxes pre-rolled white fondant
No-Taste Red Icing Color
Black Icing Color
Golden Yellow Icing Color
Red Sixlets®
Supplies:
Toothpicks
Fondant Roller
Fondant Smoother
Pizza cutter or paring knife
Power Rangers Dino Charge Birthday Candles
12 in. Cake Platter
Follow Instructions
1) Ice cake
Prepare cake rounds for fondant. Ice with a layer of buttercream icing.
2) Color fondant
To create red-hued fondant for both the bottom and top layers, knead two balls of white fondant until soft. Using a toothpick, dot no-taste red icing color into fondant, and knead until the color is evenly distributed.
3) Roll fondant
Roll out one ball of red fondant. Place over the larger cake round and smooth using a fondant smoother. Trim off the excess with a pizza cutter or paring knife. Do the same for the smaller cake. Place the smaller cake on the larger cake.
4) Color black and grey fondant
For the grey and black teeth background, knead two small balls of fondant and tint one ball grey and the second ball black. Use black icing color for both; use just a little to make gray. Roll out both fondant colors. Using the paring knife or pizza cutter, cut one grey rectangle the same height as the bottom cake. Next cut one black rectangle one inch narrower than the grey rectangle. Adhere the grey fondant to side of cake on a diagonal angle with buttercream icing. Again using icing, place black diagonal over grey. Trim excess on bottom of cake.
5) Color teeth fondant
Add the signature teeth! Knead another ball of white fondant and, this time using golden yellow icing color, color the fondant yellow. Roll out yellow fondant and freehand triangles. Adhere them along black strip, alternating the points up and down to mimic teeth pattern.
6) Add gumballs
It's time to break out the Sixlets®! Line the bottom and top tier with red Sixlets®, using buttercream icing to adhere them to cake.
7) Place birthday candles
Finish off the cake with Dino Charge candles. Now all you need to do is keep the kids from karate-chopping the cake and taking a nibble before the Birthday Ranger blows out the candles!
More Power Rangers Party Ideas View All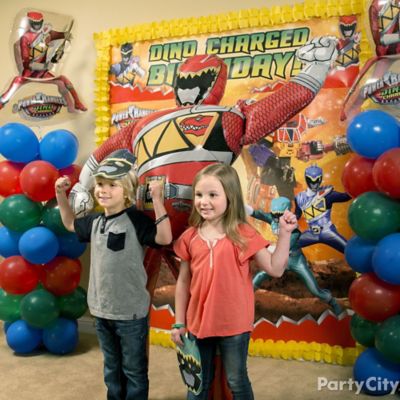 Strike a mega pose
Hand out Power Rangers masks so the kids can have a blast dressing up as their favorite Ranger and posing next to a Dino Charge gliding balloon!
More Boys Birthday Ideas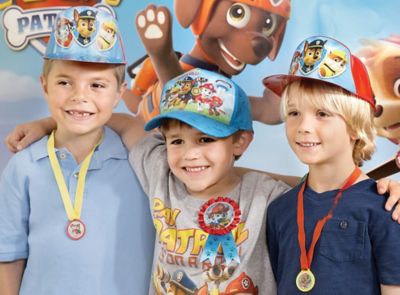 PAW Patrol Party Ideas
MOM Patrol is on the job! Your mission: To give the party pups a fun-filled birthday adventure.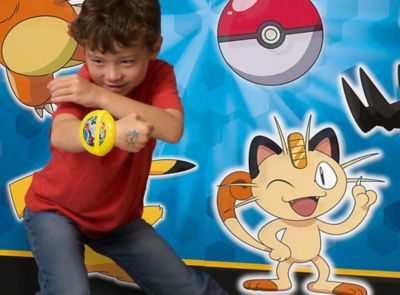 Pokemon Party Ideas
You gotta catch 'em all… our decorating, favor, dress-up and cake ideas, that is!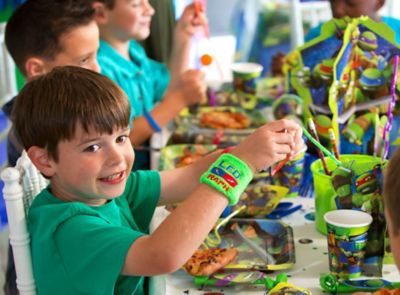 TMNT Party Ideas
Shell-kicking ideas for your Teenage Mutant Ninja Turtles shindig!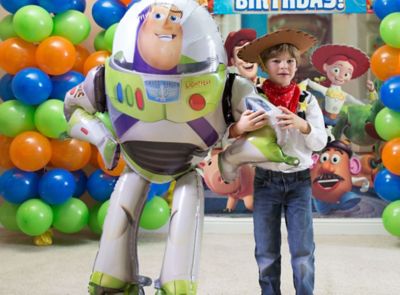 Toy Story Party Ideas
Mix and match our favor, snack, and decorating ideas for a one-of-a-kind celebration!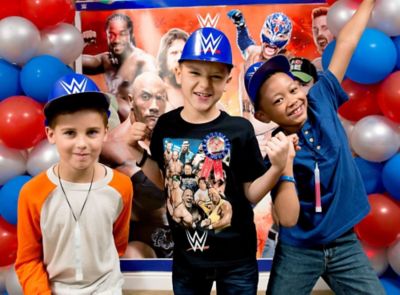 WWE Party Ideas
Mix and match our favor, snack, and decorating ideas for a one-of-a-kind celebration!