Monsters University Fondant Cake How To
How-To
| | | | |
| --- | --- | --- | --- |
| Yield | Servings vary | Level | Advanced |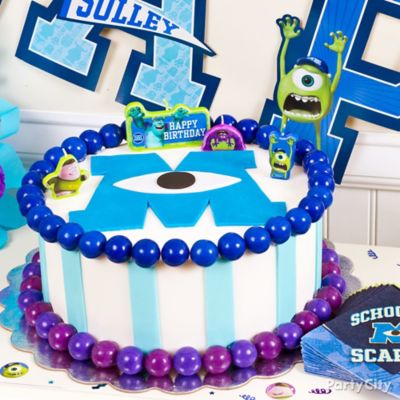 Ingredients:
2 - 10 in. cake rounds
Buttercream icing mix
2 boxes pre-rolled white fondant
Sky blue icing color
Pre-rolled black fondant
Royal blue gumballs (about 50)
Purple gumballs (about 25)
Dark purple gumballs (about 25)
Supplies:
Monsters University Candles
Fondant roller
Fondant smoother
Pizza cutter or paring knife
16 in. round cardboard platter
Follow Instructions
1) Ice cake
It's easy to decorate a scream-worthy cake! First, to prepare your cake to be covered with fondant, ice it with a layer of buttercream icing.
2) Dye fondant
You'll be tinting two small batches of white fondant two shades of blue. Make ball of white fondant using half the contents of one box, and knead until soft. Use a toothpick to dot sky blue icing color onto the fondant and knead until color is evenly distributed. Tint about half that batch a darker blue to get a darker shade for the letter "M".
3) Cover cake with fondant
Roll out the white fondant. Place over the cake and smooth using a fondant smoother and trim off the excess using a pizza cutter or paring knife.
4) Attach stripes
Roll out the lighter blue fondant and cut ten strips using a pizza cutter or paring knife. Dab fondant with water to attach to cake.
5) Create monogram
For the letter "M", cut the darker blue fondant into a letter M. (Either freehand it or print out a letter and trace it.) Add some scary style by making a white eye and a black eyeball!
6) Attach gumballs
Place the cake on a cool silver platter and decorate the top and bottom with gumballs, "glued" with royal icing.
7) Top with candles
The finishing touch: add some smart candles! The kids will have fun identifying them as Mike, Sulley, Art and Scott "Squishy" Squibbles – and your birthday star will have a blast blowing them out!
More Monsters University Party Ideas View All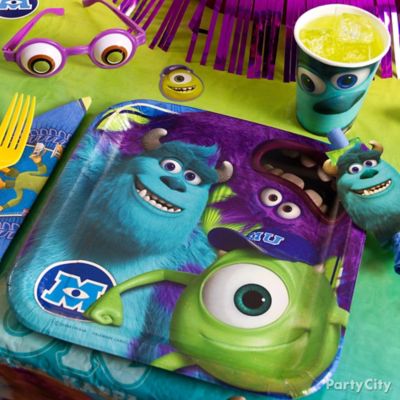 Score with monster-ous place-settings!
All eyes – or just one! – will be on the party table when you lay out awesome Monsters University tableware featuring everyone's fave monster pals Mike, Sulley and Art!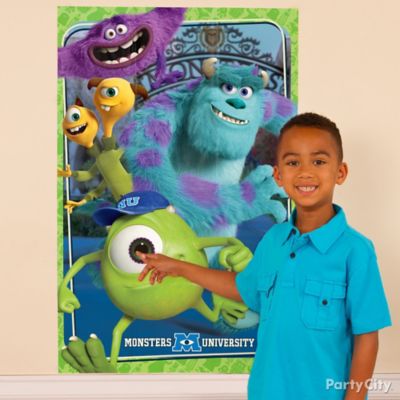 Help Mike find his eyeball!
What's a monster with only one eye to do? Have the little monsters help Mike find his eye and have some fun, too.
More Boys Birthday Ideas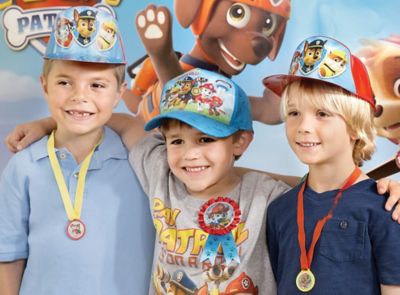 PAW Patrol Party Ideas
MOM Patrol is on the job! Your mission: To give the party pups a fun-filled birthday adventure.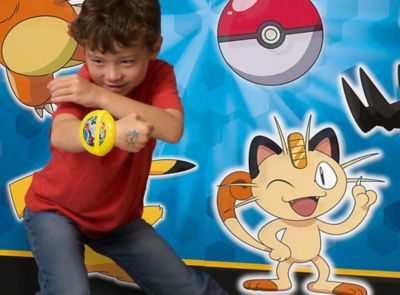 Pokemon Party Ideas
You gotta catch 'em all… our decorating, favor, dress-up and cake ideas, that is!