Elmo Fondant Cake How To
How-To
| | | | |
| --- | --- | --- | --- |
| Yield | Servings vary | Level | Advanced |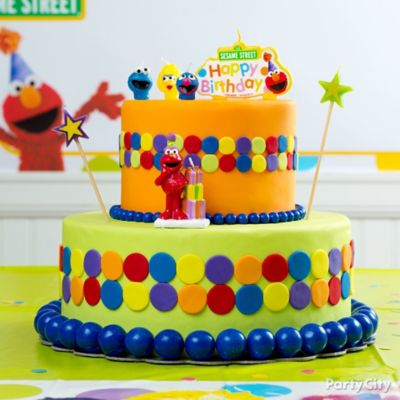 Ingredients:
2 two-layer cake rounds, 6 in. and 10 in. in diameter
Buttercream icing
3 boxes pre-rolled white fondant
Pre-rolled multi-color fondant set
Pre-rolled neon fondant set
Icing color in orange
leaf green lemon yellow (in 8-color set)
Blue icing tube
Royal blue gumballs (about 40)
Royal blue Sixlets®* (about 40)
Supplies:
Sesame Street birthday candles
Elmo birthday cake candle
Happy birthday star candles
Fondant roller
Fondant smoother
Pizza cutter or paring knife
Bamboo skewers
Decorating tips (for blue icing tube)
Tip #3 (in 25 pc. set)
Tip coupler (in 25 pc. set)
16 in. round cardboard platter
Follow Instructions
1) Prepare confetti in advance
Make the fondant confetti in step 9 a day or two ahead. Cut thin 6 in. strips of fondant in different colors. Wrap around a pen or chopstick. Let the strips dry for a day or two. Slide them off and add to the cake as the finishing touch!
2) Ice cakes
To prepare your cake rounds to be covered with fondant, stack and ice them with a layer of buttercream icing.
3) Cover bottom tier
Knead a batch of white fondant until it's soft. Roll out the fondant, cover the larger cake and smooth with a fondant smoother. Trim off the excess with a pizza cutter or paring knife.
4) Cover top tier
Knead another batch of white fondant until soft, and tint it with dots of sky blue icing color using a toothpick. Knead until color is evenly distributed. Roll out, cover cake, smooth with a fondant smoother and trim off excess. Center the smaller cake on top of the larger cake.
5) Create buildings
Create a miniature Sesame Street! To make the buildings, roll out pink, purple and red fondant from the ready-made fondant sets (red from the multi-color set; pink and purple from the neon set). Dab the back of each building with a bit of water to apply to the base of the smaller cake. For windows, cut small rectangles and squares of each color and apply with dabs of water.
6) Draw birds
Use a food writer marker to draw birds on the "sky" above the buildings. Fun!
7) Create sign
Tickle the birthday star with a personalized Sesame Street sign with their name and age! Use green fondant for the sign background, yellow for the border, and white for the letters and birthday number!
8) Create polka dots
Time for cute polka dots! Use the wide end of a decorating tip to cut circles in different colors. Dab with water and apply to cake.
9) Attach confetti
Add your colorful confetti creations. (Make ahead; see step 1.)
10) Top with a candle
Top it off with an Elmo candle and the gang will eat it up!
More Elmo Party Ideas View All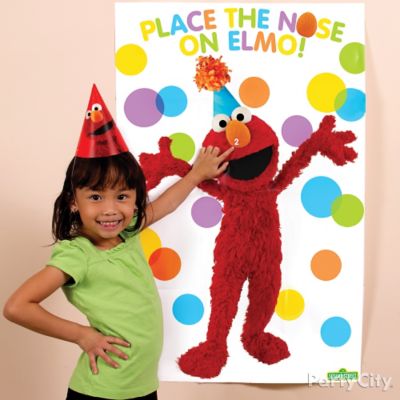 Place the Nose on Elmo!
Oh no! Elmo has gone and lost his nose. Kids can help him smell the flowers again with this twist on the classic game Pin the Tail on the Donkey.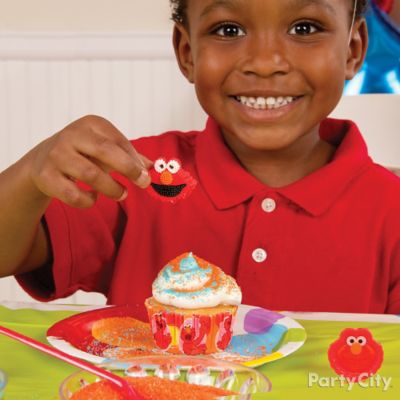 Decorate their own cupcakes!
Elmo fans will love getting creative as they dress up cupcakes with icing decorations, candy sprinkles, colored sugar and more.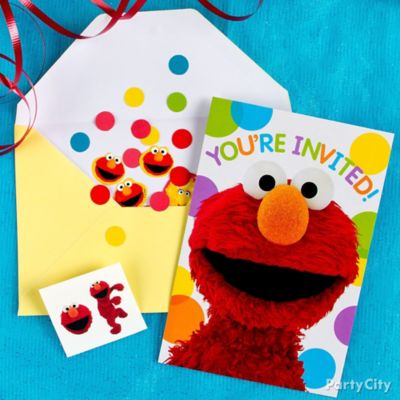 Give out a fun party pass
Get your guests into a great birthday party mood with these ready-made Elmo Invitations – just write in all the information about the party.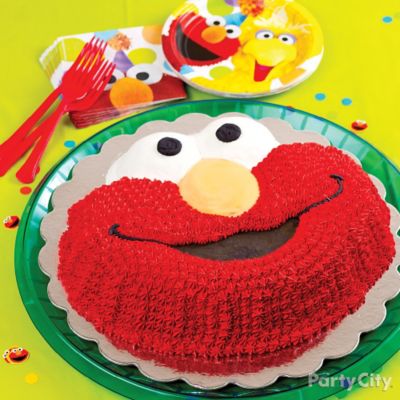 Make a sweet Elmo cake!
Invite your birthday boy's favorite Muppet to the party in the form of an Elmo birthday cake.
More Boys Birthday Ideas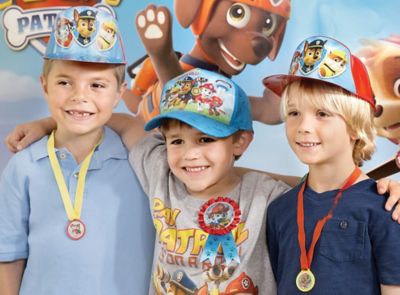 PAW Patrol Party Ideas
MOM Patrol is on the job! Your mission: To give the party pups a fun-filled birthday adventure.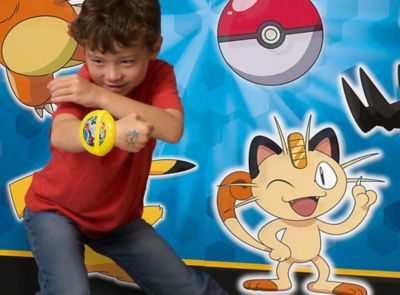 Pokemon Party Ideas
You gotta catch 'em all… our decorating, favor, dress-up and cake ideas, that is!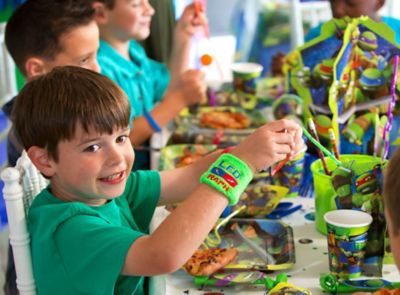 TMNT Party Ideas
Shell-kicking ideas for your Teenage Mutant Ninja Turtles shindig!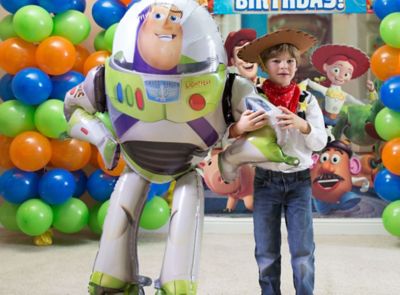 Toy Story Party Ideas
Mix and match our favor, snack, and decorating ideas for a one-of-a-kind celebration!