Angry Birds Fondant Cake How To
How-To
| | | | |
| --- | --- | --- | --- |
| Yield | Servings vary | Level | Advanced |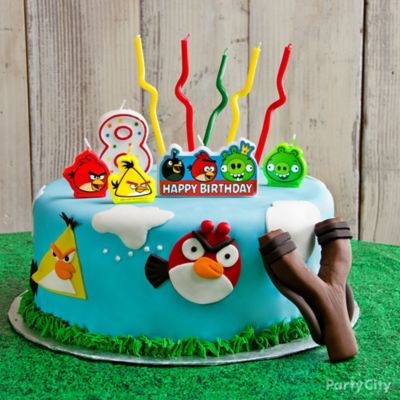 Ingredients:
2 - 10 in. cake rounds
Buttercream icing mix
2 boxes white rolled fondant (48 oz.)
Icing color in black
Icing color in red
Icing color in orange
Icing color in sky blue
Icing color in green
Icing color in brown
Pearl sprinkles for clouds
Red mini gumballs for Angry Bird's crown
Supplies:
Angry Birds candles
Fondant roller
Fondant smoother
decorating tip 233 for grass (in 2pc. decorating tip set)
Icing decorating bags and coupler
Pizza cutter or paring knife
Toothpicks
Gum paste
optional for slingshot
14 in. round cardboard platter
Follow Instructions
1) Ice cake
Game on! First prepare your cake for the fondant by icing it with a thin layer of buttercream icing.
2) Dye fondant blue
To tint white rolled fondant blue, Knead a ball of white fondant until soft. Set aside a small chunk for later use. Tint the rest light blue by using a toothpick to dot sky blue icing color onto the fondant and kneading until color is evenly distributed. Roll out the blue fondant and smooth it over the cake using a fondant smoother. Trim off the excess with a pizza cutter or paring knife.
3) Dye fondant for the birds
Using the same tinting technique to color a chunks of white fondant (to make Red Bird and Yellow Bird!) with the orange, red, yellow and black icing color.
4) Create fondant clouds and birds
Roll cut out shapes to make the clouds and the birds. Freehand if you feel comfortable, or make some sketches first and cut the fondant to them. Dab the shapes with water to attach to the cake. Have fun getting creative! We used pearl sprinkles for cloud puffs and "glued" on mini red gumballs with royal icing for Red Bird's crown!
5) Pipe grass
To create the grass, fill a decorating bag with green-tinted icing, then fit it with a coupler and decorating tip #233. Starting at the base of the cake, pipe the icing upwards using quick short strokes. Continue around the cake.
6) Create slingshot
Bombs away! To make a slingshot, tint some gum paste with brown icing color and shape by hand into a slingshot. Use a bit of black fondant for the details. You can also make a smaller version of this idea using brown-tinted fondant.
7) Top with candles
Top it off with adorbs Angry Birds candles, wavy candles and a number candle. We heart this cool cake!
More Angry Birds Party Ideas View All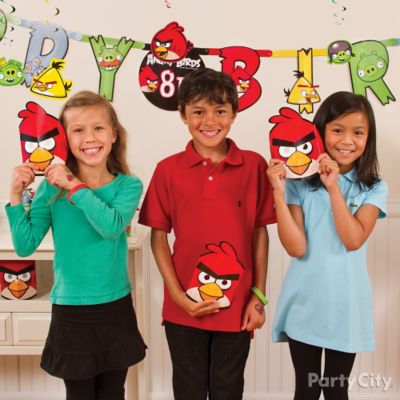 A bird mask for everyone!
Get the whole flock into the Angry Birds spirit by having the birthday boy pass out Angry Birds accessories when his friends arrive.
More Boys Birthday Ideas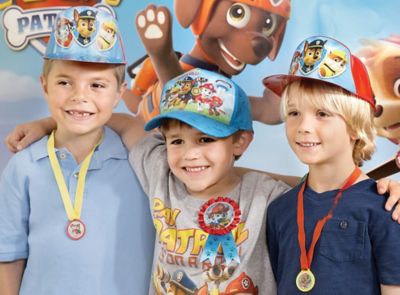 PAW Patrol Party Ideas
MOM Patrol is on the job! Your mission: To give the party pups a fun-filled birthday adventure.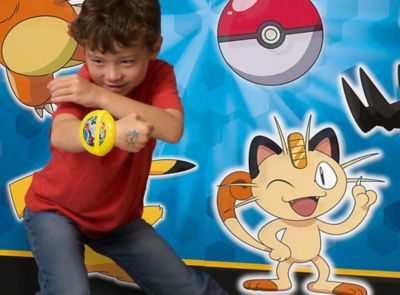 Pokemon Party Ideas
You gotta catch 'em all… our decorating, favor, dress-up and cake ideas, that is!