Boys Birthday Party Ideas
21 despicably cute party ideas! Get Inspired

Get all the Gru-approved ideas and party supplies you need for the li'l Minions!

Dress up the "lab" table

Minion Mania!

PARTY VIDEO: Bee-do bee-do!
16 paw-some party ideas! Get Inspired

MOM Patrol is on the job! Your mission: To give the party pups a fun-filled birthday adventure. Get inspired by our PAW Patrol party ideas full of paws-itively adorable decorations, favors and dress-up ideas!

No room is too big, no pup too small!

Gather all paws on deck with an awesome party table!

PARTY VIDEO: The party's on a roll!
33 great party ideas! Oh boy! Get Inspired

Try our Mickey Mouse party ideas for decorations, favors and more… and you'll be ready to celebrate this birthday before you can spell M-O-U-S-E!

Make your Mickey's Clubhouse the coolest ever!

Set a Clubhouse table fit for a mouse!

PARTY VIDEO: See you at the Clubhouse!
21 Powered-Up Party Ideas! Get Inspired

Mario and Luigi are ready for adventure in the Mushroom Kingdom. With these ideas and decorations it is easy to create a colorful birthday bash in record time.

Power-up your table and party room

Awesome decorations with all the essentials

PARTY VIDEO: Game on!
20 epic birthday party ideas! Get Inspired

Time to get revved! Get on the right track with our first-place ideas for invitations, party favors, decorations and more!

Rev-up your party room

Add some vroom to the party room!

PARTY VIDEO: Race to win!
16 ideas you can choo-choo-choose! Get Inspired

Your child's birthday celebration will go full steam ahead with fun Thomas party ideas! Thomas and his friends will come to life through themed games as well as decorating and favor ideas.

All aboard!

Make sure the cargo includes cupcakes!

PARTY VIDEO: Choo-choo-choose fun!
19 action-packed ideas! Get Inspired

Bring the team together with an Avengers theme! The heroes can get ready for battle with Avengers masks, accessories, balloons and an awesome scene setter. Make it a smashing party!

Serve up superhero fun with a themed cake!

Surprise your superheroes with fun decorations!

PARTY VIDEO: Assemble your heroes!
27 party ideas in a half shell! Get Inspired

Throw a shell-kicking shindig with our Teenage Mutant Ninja Turtles party ideas. From pizza to awesome party decorations and everything in between, these party ideas will make you the birthday master – go ninja, go ninja, GO!

Let him dress up like his favorite ninja turtle!

Your little ninjas will be shell-cited at this totally rad cake!

PARTY VIDEO: Party in a half-shell!
More Boys Birthday Ideas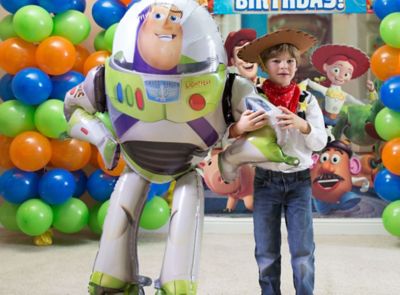 Toy Story Party Ideas
Mix and match our favor, snack, and decorating ideas for a one-of-a-kind celebration!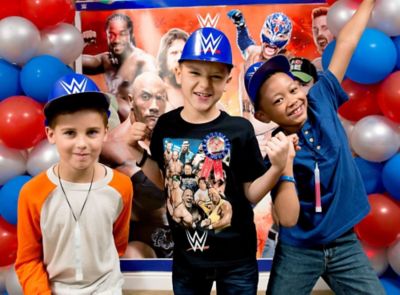 WWE Party Ideas
Mix and match our favor, snack, and decorating ideas for a one-of-a-kind celebration!